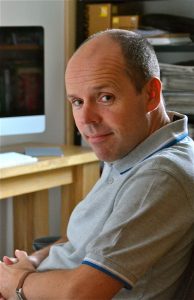 ROBBIE MacDonald is a journalist and photographer with a particular interest in the people and places of northern England, Scotland and Ireland.
He has lived and worked across the north of England, from the River Tyne to the Mersey, mainly working for local newspapers as a reporter but also in commercial printing and, more recently, PR.
Over the years he has taken photographs connected to professional work but also in his own personal capacity. Most of the images on this site are the later category.
Robbie's interests include topics with a strong sense of place, community, culture or cause.  This might be grassroots politics, music, local traditions or sport. Urban and rural life, work and leisure activities are other key interests – typically explored through portraits taken on location rather than studios.
Robbie was born in Scotland in 1968 and spent his early childhood in Wishaw, near Glasgow. He moved with his family to the north-east of England in the 1970s, near Middlesbrough, as did many other Scottish families with links to the steel industry which was restructured at the time.
He first developed an interest in photography as a teenager during the 1980s. He was strongly influenced by north-east English documentary photographers including Middlesbrough's Ian MacDonald (no relation), Chris Killip and the veteran Tyneside photographer  Jimmy Forsyth.
At school, Robbie began photographing and painting urban and industrial scenes around Middlesbrough and the River Tees. These ranged from town centre street scenes and the riverside district of St Hilda's to the steel mills, blast furnaces and shipyards of South Bank, Cargo Fleet, Grangetown and Redcar. He retains a strong interest in Teesside's distinctive mix of urban and rural towns and villages, heavy industry and countryside, riverside, coast and moors.
Regional photography galleries were also very influential on him when he was younger, especially The Side in Newcastle-upon-Tyne, Impressions in York and the National Museum of Photography, Film & Television in Bradford (now renamed the National Media Museum).
Newspaper photojournalism from the 1980s also had a big impact including photography dealing with the de-industrialisation of the north, the 1984-85 miners' strike and the political problems of Northern Ireland.
Robbie studied at Cleveland College of Art in Middlesbrough and then Bradford & Ilkley College. During his time in Bradford, he explored West Yorkshire's cities, towns and Pennine landscapes, and his interest in northern photography deepened. Football fans, the late 1980s rave music scene and northern youth culture were other favourite topics at the time.
After graduating, Robbie worked in graphic design and commercial printing in Bradford and then in other sectors before moving into the newspaper industry. In the north-east, he worked at the weekly Hexham Courant in Northumberland and the Darlington & Stockton Times, where he was Cleveland reporter covering a diverse home patch including Stockton-on-Tees, Middlesbrough and Teesside's villages along with the rural North Yorkshire Moors and Yorkshire Dales.
He has also written for newspapers in Harrogate, Leeds, Bradford, Accrington, Blackburn, Bolton, Oldham, Stockport, Manchester,  Warrington, Birkenhead, Runcorn and Liverpool. He worked for a number of years on daily papers including The Bolton News, Lancashire Telegraph and the Oldham Evening Chronicle. In more recent years, he has supplied news and photographs to print and online titles including the Manchester Evening News and the Liverpool Echo, plus regional and national news and trade media. He currently lives in Greater Manchester.
Many photographers from different eras have influenced his work. They include Bill Brandt, Bert Hardy and Humphrey Spender along with more contemporary photographers such as Ian Beesley,  Elaine Constantine and Denis Thorpe.
Along with documentary photography from the north-east of England, especially from the Middlesbrough and Newcastle areas, photography from the Liverpool region has also been a special influence. This includes the work of Edward Chambre Hardman, Frank Lenhan, Bernard Fallon and Tom Wood.
Scottish and irish photography has also provided great inspiration, including the rich body of photojournalism covering gaelic games and culture, and Ireland's county-based amateur Gaelic Athletic Association (GAA).
Robbie's other interests include art and design, music, politics, history, the outdoors, Middlesbrough FC and Celtic FC. He has given talks about his photography and is always happy to discuss ideas about potential new projects. For further details, email info@robmacdonald.org or call 07748 168916.