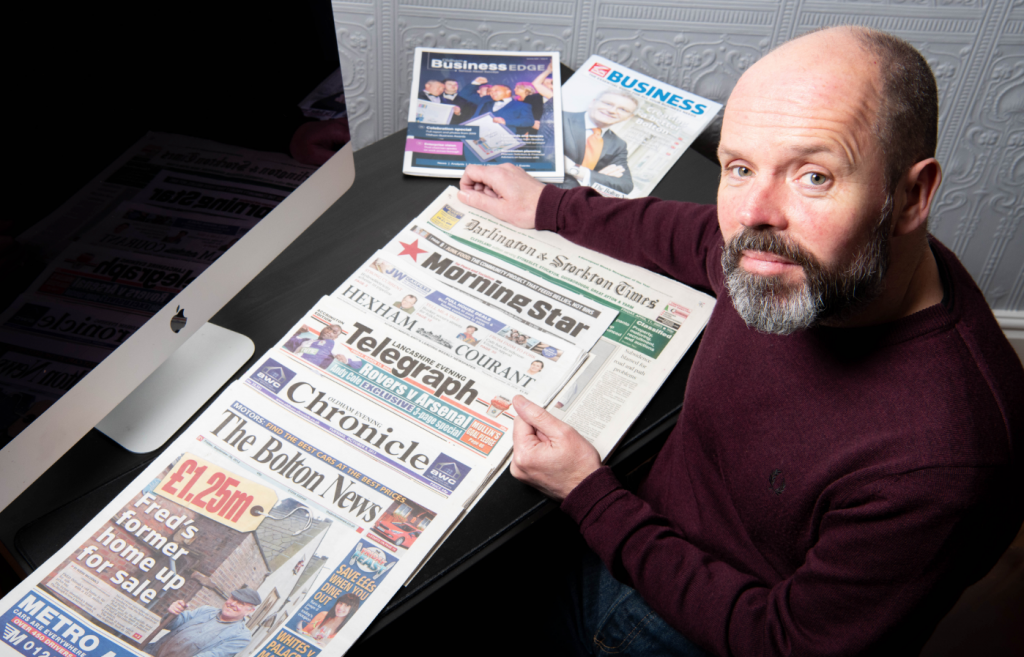 I am a journalist and photographer who has lived and worked across northern England, from the Tyne to the Mersey.
I was born in Scotland, where I spent my early childhood, then later grew up in north-east England.
For most of my working life as a journalist, I've reported for, edited and designed newspapers and magazines across print and digital formats. I have also been involved with photography, graphic design and commercial printing. Other experiences include working in radio, nightclubs and music venues and in music retail.
This blog  explores subjects that particularly interest me on a personal basis. I've  thought about how best to summarise the topics that are most likely to appear here and arrived at these themes: people and places, lives and causes, music and culture.
I'm especially interested in northern England, Scotland and Ireland, and other countries such as Italy and Spain, which have rich, diverse and sometimes volatile regional and national identities, culture, politics and histories.
But this blog will covers other topics too including music, art, design and entertainment.
MY BACKGROUND
I was born in Scotland in 1968 and spent my early childhood in Wishaw, near Glasgow. I moved with my family to the north-east of England in 1974.
We moved to the Middlesbrough area, as did many other Scottish families with links to the steel industry, which was being restructured across the UK. Others went to areas such as Sheffield.
So I grew up with a mix of English and Scottish influences. My mother is from Glasgow and my father from Inverness in the Highlands. This blog reflects some of those influences.
We also had a rich mix of influences in England too,. The Teesside area includes parts of County Durham and Yorkshire, including the Cleveland district with industrial, rural, moorland and coastal areas.
Welsh, Cornish and Irish influences are there in Teesside too, often linked to the old ironstone mining and industries. The surnames and local accents bear those influences.
As a teenager in the 1980s, I started supporting both Middlesbrough FC and Celtic, as did some other young Teesside Scots. It felt like a good combination. I watched 'The Boro' regularly but also joined Redcar Celtic Supporters Club which organised trips to matches in Glasgow and projected grainy videos of Celtic matches in Teesside pubs.
PHOTOGRAPHY & VISUAL ART
I bought my first camera while at school and was strongly influenced by north-east English documentary photographers in the 1980s. They included Middlesbrough's Ian MacDonald (no relation), Chris Killip and the veteran Tyneside photographer  Jimmy Forsyth, an amateur photographer who documented life around him in Newcastle for decades and who was featured on Tyne Tees TV.
At school I studied art and photography. I started exploring areas around Middlesbrough, Stockton and the River Tees estuary through drawings, paintings and photographs. These ranged from Middlesbrough town centre scenes and its old riverside district of St Hilda's to the industry, steel mills, blast furnaces and shipyards downstream at South Bank, Cargo Fleet, Grangetown and Redcar.
An example of a painting from school, below, shows the landscape around Smith's Dock shipyard looking upstream, westward, to Middlesbrough in the distance. I include it here not as a piece of brilliant painting but simply to illustrate the type of industrial and riverside landscapes which inspired me at the time.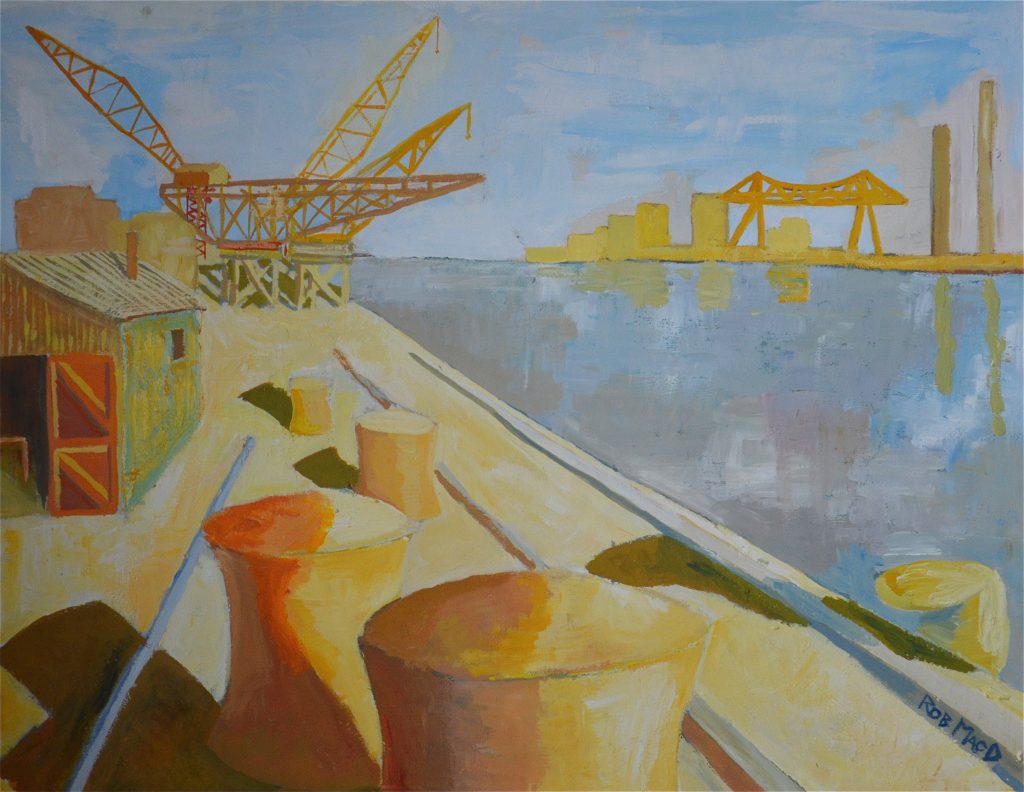 I was also interested in other types of visual art and processes linked to printing, photography and photo-silkscreen printing. These included colour separation, solarisation, repeated images, slight variations, collages, photocopies, misprints and errors.
Influences here included pop art, Andy Warhol in particular, along with other 20th century art and design movements such as the Bauhaus, Futurism, punk, new wave and 1980s electronic music and design.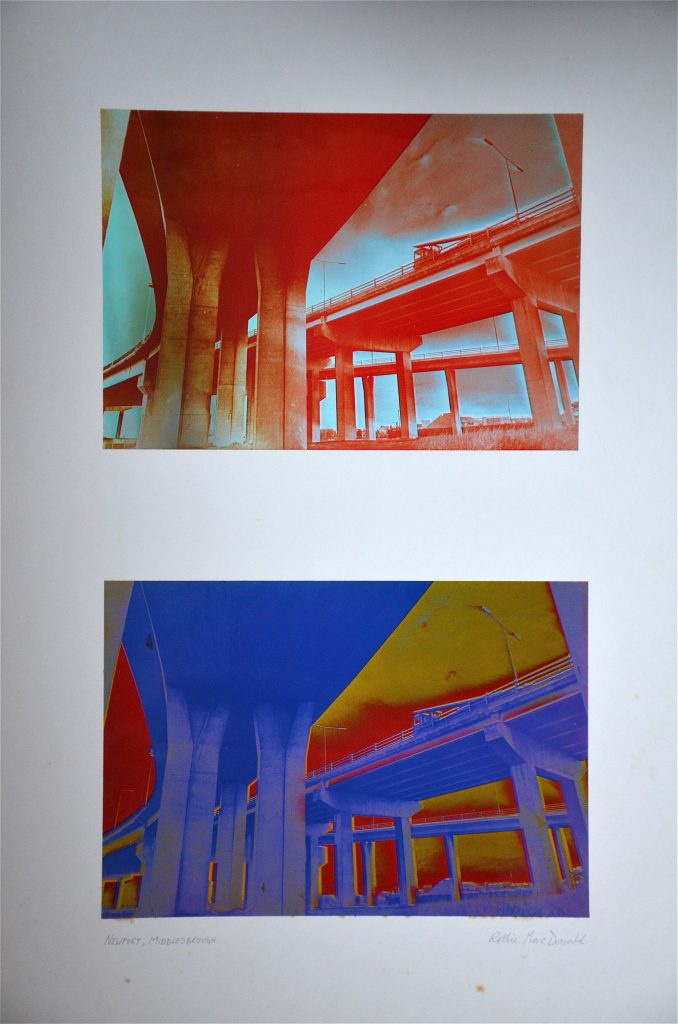 DOCUMENTARY PHOTOGRAPHY
Regional documentary photography galleries were also very influential, especially The Side in Newcastle-upon-Tyne, Impressions in York and the National Museum of Photography, Film & Television in Bradford (now the National Media Museum).
Newspaper photojournalism from the 1980s also had a big impact including photography dealing with the de-industrialisation of the north, the 1984-85 miners' strike and the political problems of Northern Ireland.
After my A-levels, I went to Cleveland College of Art & Design in Middlesbrough (now the Northern School of Art) for a one-year foundation course, which I enjoyed. I loved the college environment and its modernist main building in Linthorpe.
Images from that era include shots of Bert Ward, below, a political activist in Middlesbrough. Bert Ward's many activities included work to end political violence in Northern Ireland and bring different sides together for talks. He built links between trade unions, community groups, grassroots activists and mainstream politicians in the UK and Ireland including Mo Mowlam, the former Redcar MP and Labour Secretary of State for Northern Ireland, and Ulster Unionist leader David Trimble. Later in his life, Bert Ward gave ex-Cleveland Police chief Ray Mallon a crash-course in politics during his successful campaign to become Middlesbrough's first directly-elected Mayor.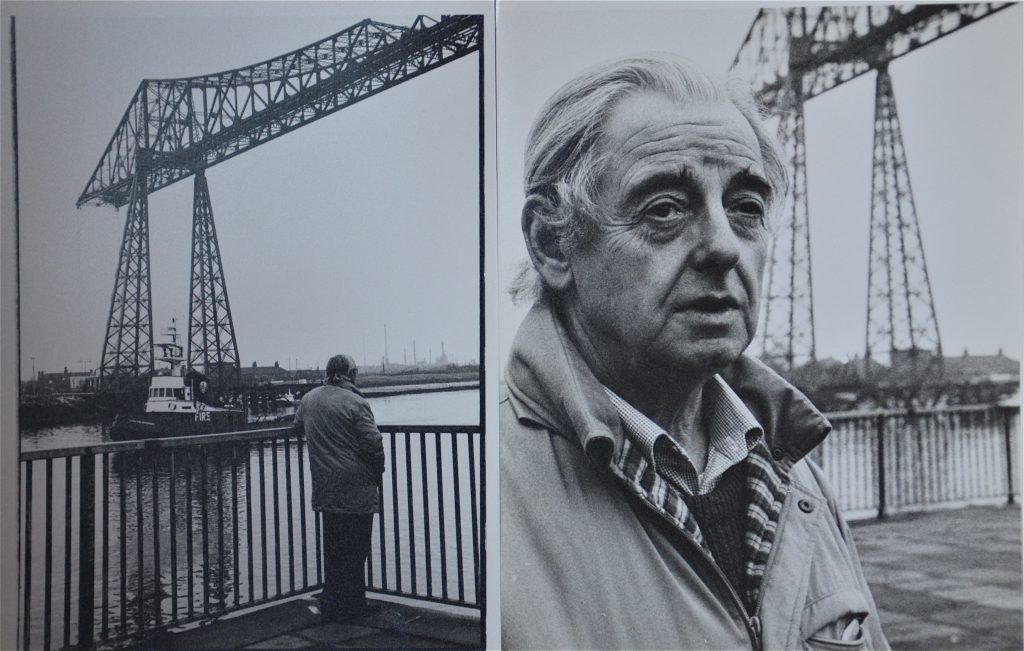 After my foundation course in Middlesbrough, I studied an art and design degree at Bradford & Ilkley College.
There, I had the chance to explore West Yorkshire's cities, towns and Pennine landscapes, and my interest in northern photography developed further. Football fans, the late 1980s rave music scene and northern youth culture were some of my favourite topics at the time.
After graduating, I worked in graphic design and commercial printing in Bradford. I later taught media studies at Cleveland College of Art in Middlesbrough and Cleveland Technical College in Redcar. I really enjoyed working at Cleveland College of Art & Design and have many fond memories of my time there, both as a lecturer and earlier as a student.
MUSIC, CLUBS & RADIO
Later I worked for music retailer HMV in Middlesbrough and Leeds. At the same time, I began writing for the north-east nightlife and listings magazine The Crack and wrote publicity material for The Arena nightclub and live music venue in Middlesbrough.
Music, especially dance, soul and electronic styles, music production, recording, the record industry and radio are also key interests.
Back in the 1990s, I visited recording studios, dance record shops and music venues in New York, Boston and Philadelphia that were closely linked to soul, disco and dance music. These included Dance Tracks in New York City and Sigma Sound Studios in Philadelphia, which was a key studio for Philadelphia International Records in the early 1970s, led by legendary  producers Gamble & Huff, and later used by the iconic New York disco label Salsoul Records in the late '70s and early '80s.
My interest in dance music included running some small club nights in Bradford and Middlesbrough in the 1990s (see the posters below) and presenting music programmes on community radio and pirate stations. I also presented some live speech-based entertainment reviews on BBC Radio Cleveland, now renamed BBC Tees.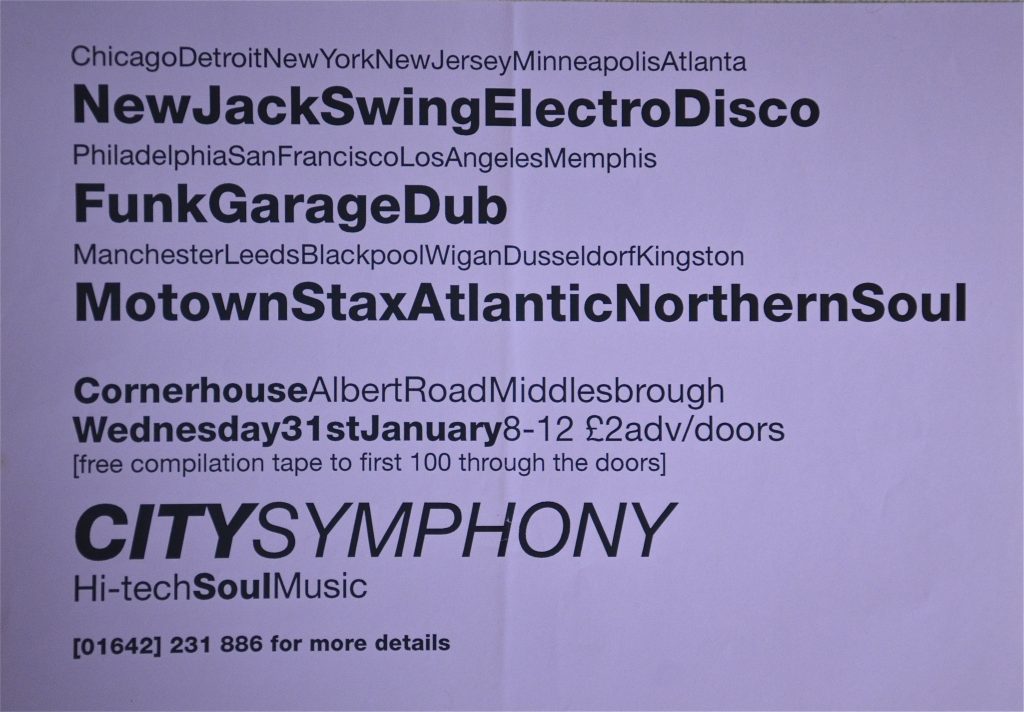 NEWS JOURNALISM
In 1999, I retrained as a newspaper reporter in Darlington, influenced by my friends working in newspapers including the Evening Gazette in Middlesbrough, The Northern Echo, The Journal in Newcastle and for Bradford & District Newspapers.
My first job as a newspaper reporter was at the weekly Hexham Courant in Northumberland, which I loved. Later I joined the Darlington & Stockton Times, where I became Cleveland reporter covering my home district including Stockton-on-Tees, Middlesbrough, Darlington and smaller towns and villages across the Cleveland, North Yorkshire and south Durham region. That was another job that I loved and I was really proud to become a D&S Times reporter.
I later moved to the north-west of England and worked on daily papers including The Bolton News, Lancashire Telegraph and the Oldham Evening Chronicle.  I have written for newspapers covering areas including Harrogate, north Leeds, Bradford, Accrington, Blackburn, Burnley, Stockport, Manchester, Warrington, Runcorn and Merseyside
In more recent years, I've supplied news and photographs to print and online titles including the Manchester Evening News and the Liverpool Echo, plus regional and national news, business and trade media. I also worked for some time in the Liverpool and wider Merseyside area in journalism and photography.
Along with documentary photography from the north-east and Yorkshire, photography from the Liverpool and Greater Manchester regions has also influenced me.
Liverpool in particular has a strong photographic culture including E Chambre Hardman, Frank Lenhan, Bernard Fallon and Tom Woods and this blog includes some of my own images taken on Merseyside.
Scottish and Irish photography has also provided great inspiration, including the rich body of photojournalism covering gaelic games and culture, and Ireland's county-based amateur Gaelic Athletic Association (GAA).
I have given talks about my photography and journalism. For further details, email info@robmacdonald.org or call 07748 168916.